Dr. Matthew G. Lenke earned the Doctor of Veterinary Medicine degree from The Ohio State University in 2005.
Dr. Lenke was raised in Oak Harbor, and during high school was active in basketball, musicals and choir, as well as showing horses in 4-H. He grew up on his families' grain and hay farm, working with the horses, and raising pigs and cattle as well. He has been with Catawba Veterinary Hospital, Inc. since 2006.
Dr. Lenke works with small animals and also does acupuncture and alternative medicine on both small animals and horses.
Dr. Lenke lives in Oak Harbor with his wife Brandy, son Seth, daughters Madelyn and Kayleigh, and their two Australian Cattle Dogs, Doc and Cheyenne. In his spare time, he enjoys helping out on the family farm, camping, riding horses, and spending time with his family.
---
Office Manager/Registered Veterinary Technician Aimee Aimee has been with us since 1999. She has her Bachelor of Science from the University of Findlay in 1999 and her Registered Veterinary Technician license from Stautzenberger College in 2004.She is a member of the OAVT and AAEVT. Aimee resides in Tiffin, with her cat Whosit.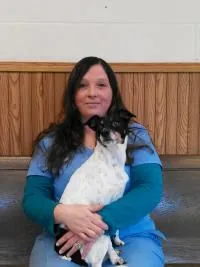 Gina has been with us since the Summer of 2013. She is a graduate of Brown Mackie College, where she earned her Registered Veterinary Technicians license in 2012. Gina resides in Oak Harbor with her husband .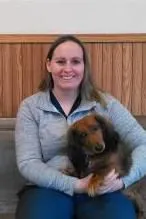 Alisha has been with our office since December, 2014. Alisha is a graduate of Stautzenburger College and earned her Veterinary Technicians License in 2014. Alisha lives with her husband and children in Port Clinton.